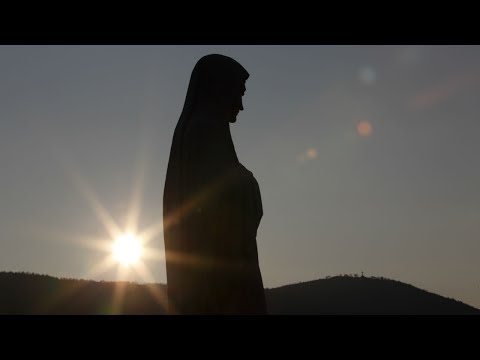 A miracle has been reported in Ireland, and it has been witnessed and filmed by thousands of people.
According to a 14-year-old boy who visited Fatima, the Virgin Mary told him she would appear at 3 PM in Knock, Ireland and this miraculous event occurred.
Thousands of people witnessed a Miracle of the Sun above Knock, Ireland on June 10
The footage is emotional and difficult to believe, but it is genuine and verified by the cameras of hundreds of other eyewitnesses. A crowd of people gathered in Knock, Ireland at 3 PM, June 10, saw a promised vision of the Virgin Mary in the sky.
The sun appeared as an elongated shape in the videos, not as a circle. Rays of light were also captured on camera. As clouds passed before the sun, filtering out the brightest light, people were able to look directly at the vision. They reported the vision moved, and spun, a classic miracle of the sun, often associated with apparitions of the Virgin Mary.
The sight alone is moving and astounding. There is no evidence on video that is so clearly genuine or so remarkable. But what makes this apparition even more compelling is that it was predicted by a 14-year-old boy.
As we can gather, the boy visited the shrine at Fatima, Portugal and met one of the visionaries from Medjugorje. The visionary spoke in Portuguese, but the boy was able to understand, despite not speaking the language. He told his father of the pending apparition. The father then posted on social media: "For two days our son seen Our Lady in Fatima and he seen the visionaries.
"The visionary from Medjugorje was speaking to him in Portuguese and (he) was able to understand every word out of her mouth.
"On the tenth of June we will be going to Knock and whoever wants to come is welcome. Our Lady will appear...
"Whoever wants to be there at three o' clock Our Lady will come down, I can't say if the three visionaries will be there, but I know Our Lady will be there.
"It's out there for everybody who believes in it."
Click here to say the Prayer to Our Lady of Knock Ireland
Right on cue, the apparition took place, astonishing believers and skeptics alike.
According to widespread belief in Ireland, Our Lady appeared in Knock in 1879, along with Jesus Christ and several saints. A shrine has been built in the town.
Is there a meaning behind the latest apparition? The answer is always yes. And the meaning is always the same, we are called to conversion. Conversion of the heart away from the things of this world and to Jesus Christ is the timeless call of Our Lady. And while no words were spoken or messages reported from the miracle at Knock, we know what Our Lady seeks. She continually points us towards her Son, Jesus Christ, that we may come to believe in Him and know Him, and through Him enjoy salvation.
Due to the remarkable nature of this evidence, we encourage readers to share this content without restriction.
Source - catholic.org